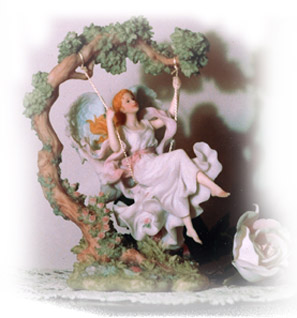 Faye Henry plays crystal bowls and tuning forks, accompanied on two tracks by Greg White Hunt playing bamboo flutes.
This cd was created to provide vibrational energy for you to relax and entrain too.

Audio Cd
$16.00


 
Crystal Bowls
One of the things I have done since shifting focus from the Seraphim Angels, is to get involved both playing and selling crystal bowls. And for those who still come to our site, I wanted to share that with you. I appreciate all our loyal customers and friends who have visited this site over the years and hope you will enjoy learning about these wonderful bowls too.
The initial effect of playing crystal bowls is to relax the body and mind. Once stress is gone and calmness is restored, the sound frequencies stimulate the chakras or energy centers of the body, the brain, endocrine glands, and the nervous system.

Quartz crystal bowls are made from 99.992% pure crushed quartz and heated to about 4000 degrees in a centrifugal mold.You play a crystal bowl with a mallet, rubbing it along the top edge, just as you would create a tone with a crystal glass by rubbing your finger along the top edge. The crystal vibrates and creates such a wonderful tone. Each bowl has its own tone.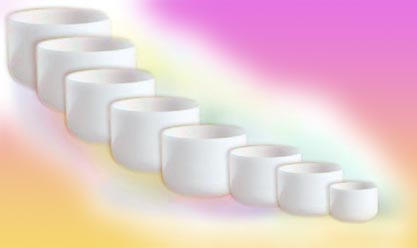 As you play the bowls, they emit a powerful, pure resonance. Clear quartz contains the full spectrum of light.

Crystal acts as an oscillator, magnifying, and transmitting pure tone. Like a powerful radio transmitter, the crystal bowls transmit energy into the atmosphere, filling a person's aura with vibrational radiance which translates into the seven main colors of the rainbow.

Entrainment often takes place which allows the body to shift to a more healing energy. An altered state of consciousness is sometimes experienced when listening to crystal bowls.

Crystal is able to maintain the balance of electromagnetic energies between the north and south poles. It is extremely accurate and consequently the foundation of timekeeping systems in all our contemporary watches is quartz crystal. The same electromagnetic field exists within all life forms. When this field is created around the physical body, the body can more easily relax and heal.
Test have shown that some sound and music can boost the immune system, regulate respiration, lower blood pressure, alleviate pain, reduce stress, and promote endurance. Around the world, sound practitioners work with the belief that each cell in the body is a sound resonator and has its own pulse, pattern and cycle. Recently new sound therapies have been developed based upon the theories of acupuncture, where sound is used to stimulate certain points on the body.
And in addition to that, it is great fun. So I have learned to play the bowls and drums and am in the process of learning to play my new Celtic harp and bamboo flutes. And on the left is my new bowl cd. A copy of it can be yours for only $16.00.