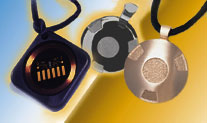 QLink Pendant Benefits

Strengthens your resilience to the effects of stress


Increases your energy and stamina


Reduces the symptoms of fatigue


Reduces the effects of EMF radiation


Relieves the symptoms of jet lag


Enhances mental performance and alertness

What is EMF? Click here for more information.
QLink Pendant Features

SRT resonating cell


Gold-plated tuning board


Copper amplifying coil


Permanent and waterproof


Shipped with a nylon cord


QLink Classic has a lifetime warranty


QLink Silver has a three year warranty

QLink Pendant Description

There is no difference in function between the QLink Classic and the QLink Silvers or Gold. They all carry the same Sympathetic Resonance Technology™, it is merely a matter of preference in terms of style choice. You may want several QLink pendants.
The QLink Classic may become your preferred pendant for sports as it is so light in weight and the QLink Silver may become your preferred pendant for dress. By wearing the QLink Silver with a silver chain you can dress it up even more.